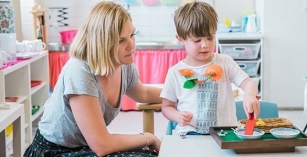 Becoming a Montessori Educator
Montessori programmes cater for children from birth to eighteen years of age and may be delivered in Montessori early childhood or school settings.  In most cases, educators will have qualifications for working with children (early childhood 3-6 years of age, primary 6-12 years of age, or secondary 12-18 years of age) as well as specialised Montessori training. 
Watch a video: Why become a Montessori teacher? 
Online Training Courses
Online introductory Montessori training courses are available through Montessori Training Australia, with courses that promote best practice in Montessori education. Utilising a flexible online platform, packages allow users to customise their learning experience to suit their individual needs. Content is both engaging and informative and delivered through high quality audio-visual resources, interactive learning activities and thought-provoking discussions.
The online courses are suitable for educators, assistant staff, administrators, Board/Committee members, parents and anyone wishing to know more about Montessori principles and practice.  
Read more about these courses here.
Note that these online courses are introductory courses only, not full Montessori teacher training Diploma courses, and are not ACECQA registered.
Montessori Qualifications 
Visit our Training Centre page for details on the Montessori training centres in Australia including:
Early Childhood Educator Qualifications
The National Quality Framework (NQF) sets out minimum qualification requirements for educators working in early childhood education and care services.  The NQF is administered through the Australian Children's Education & Care Quality Authority (ACECQA).  The ACECQA website provides information on the approved early childhood qualifications and for assessment of existing and overseas qualifications.  
There are three main levels of educators, which apply to centre-based and family day care services from birth to preschool age:
Certificate III Level Educator
Diploma Level Educator
Early Childhood Teacher (ECT)
Refer to the ACECQA Qualifications List on their website for details on what Montessori courses are approved. 
Overseas Qualification Holders
Holders of overseas early childhood or Montessori qualifications may not be approved to work in early childhood in Australia. Your qualifications must be assessed individually by ACECQA as no overseas Montessori qualifications are accredited in Australia.  Please refer to the ACECQA website for details.  Unfortunately, most overseas Montessori qualifications will not be recognised by ACECQA, so you may need to undertake Australian early childhood qualifications.  
Primary and Secondary Educator Qualifications 
Montessori educators teaching primary aged children should have relevant Montessori primary training, as well as a teaching degree and teacher registration in the state/territory that they intend to teach.  Each state/territory in Australia has a regulatory body, which mandates these teaching qualifications.  In general, the qualification will be a four year tertiary study such as a Bachelor of Education (Montessori training qualifications are not assessed as part of their teaching qualfications).  Find your local regulatory authority here.
Primary Montessori teacher training is available through: 
For secondary Montessori teacher training, please visit Sydney Montessori Training Centre for their 12-18 Adolescent courses. 
Find out more by reading the PDF document: Which Training Program is right for you?
Job Openings
A listing of Montessori job opportunities is found on our website here.