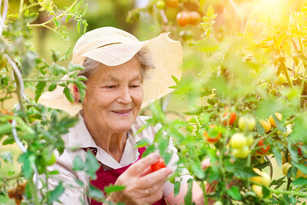 Montessori for Dementia, Ageing & Adult Care
Dr Montessori understood the intrinsic value of a person. Her passion to aid life extended beyond the classrooms for children. It has been 150 years since Maria Montessori's birth, not only is there worldwide acclaim for her work in supporting the development of children, for the formation of a peace filled humanity, but several academic studies confirm, that a Montessori approach is beneficial to adult well-being and a significant aid throughout all of human life. Montessori's goal was to inspire the spirit of every person, to enable every soul to receive and transmit divine love, so that all of humankind can realise their purpose and potential (Education and Peace). 
Montessori principles and practice support people who are living with compromised cognitive and physical capacities. A Montessori approach focuses upon the abilities of a person in the context of relationship-centred care to promote interdependence, autonomy and engagement in meaningful and purposeful occupations. Through the recognition of the person's interests, strengths and needs, a skilfully prepared environment can be established. 
"Help me to do it myself" is a popular phrase among Montessori educators around the world. In the adult care setting we may well coin the term "help me to continue to do it myself". It refers to adapting the environment to help a person remain independent and live interdependently with others, whether that is in a supported independent living environment (SIL), residential care facility (RCF), residential aged care facility (RACF), or their own home and local community.