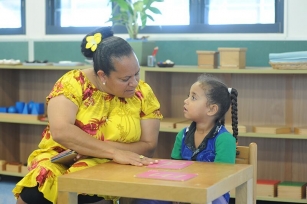 Montessori Children's Foundation (MCF)
The Montessori Children's Foundation (MCF) exists to ensure Montessori programs are made available to some of the most vulnerable children in Australia.  MCF focusses on indigenous children in remote communities where the need for quality education and support is intensified by vast distances from the centres of Australian government decision-making, service-delivery and economic activity, and by community histories of invasion, appropriation, abuse and neglect. Despite this, in those same communities we find a strong desire for a better future, and a deep awareness that a community's future lies with its children.
MCF now has Montessori programs in the following indigenous communities:
Torres Strait, Qld
Aurukun, Qld
Lockhart River, Qld
Ngaanyatjarra Lands School, WA
Like all not-for-profit organisations, MCF is constrained by the limitations of funding, but such constraints can also have the positive effect of prioritising activities that are likely to deliver high impact outcomes. For MCF, this means early childhood is our core area of business, underpinned by the key principles of partnership, sustainability, quality and flexibility.
Further information about the Montessori Children's Foundation can be found at: http://montessorifoundation.org