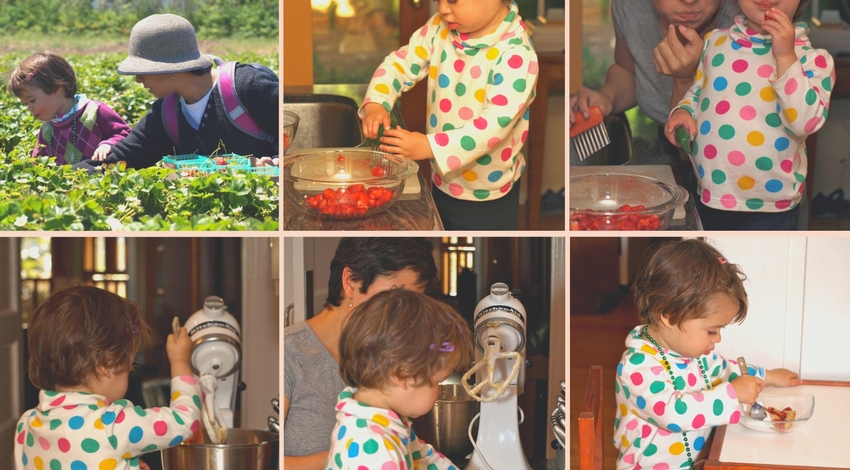 It's never too early – nor too late, for that matter – to start Montessori at home and witness the profound benefits of this time-tested and transformational approach to raising confident, joyful, independent young people.
When they think of Montessori, most people picture child-sized furniture that first appeared in Montessori schools over a century ago and those gorgeous hands-on manipulatives that make learning concrete and active in Montessori classrooms worldwide.
At home, practicing Montessori means providing a low table and chair for young children to eat at or "work" next to a parent paying bills or answering emails or stepping stools that allow them access to adult-height tables, toilets, or basins. The aim is to encourage their independence safely, so floor beds and Stokke high chairs are popular in Montessori homes, rather than furniture that restrains or restricts the child's freedom of movement.
Food prep tools designed for small hands allow young children to experience the thrill of cooking alongside a parent. And yes, with a bit of time invested in slowed-down training in peeling carrots or using an apple slicer, a three or four-year-old will surprise most adults in what they can do given the urge at this age to copy their parents and repeat skills that serve their own practical life needs!
More than appropriate tools and child-sized furniture, though, Montessori at home is more about a shift in attitude. Dr. Montessori used to say that anytime an adult does something for a child that they could do for themselves with a bit of training, they rob them of an opportunity to learn and become more independent – the hardwired goal of every child!
All humans are motivated fundamentally by the need to feel connected to and contribute meaningfully to family and community. When adults slow down their movements ­and expectations and come to see their own and their child's mistakes – either academic or behavioral – as opportunities to learn, they can help their little ones become joyful lifelong learners even before they set foot in a classroom.
This article was published in the Porch article: Adapting your Home and Life to a Montessori Lifestyle, Tips from the Experts (28 March 2023).