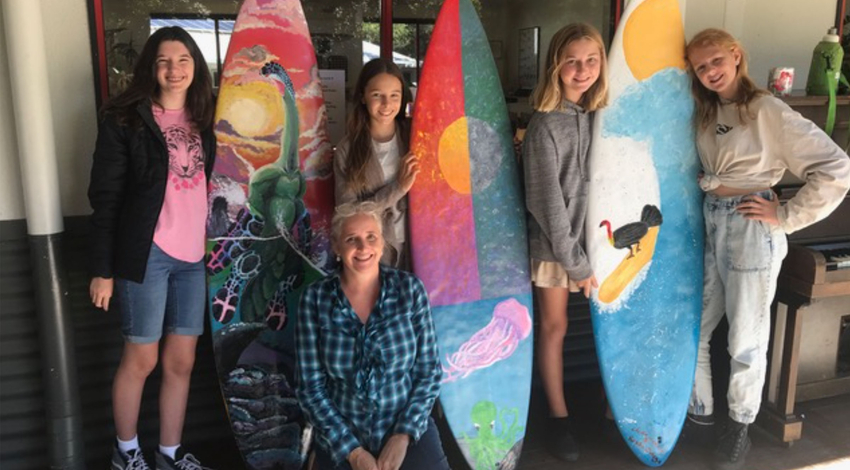 Montessori Noosa Year 7 student Lorena Raad shares how the school preserve the surfing traditions of the area.  She interviewed her fellow students on this project.
We are Montessori Noosa, we are a small school located in the beautiful Sun-shine Coast QLD. We have around 60 students from 5 to 14 years old. We were very lucky to get the opportunity to create art on 3 old surfboards, donated by Noosa Festival of Surfing and Noosa World Surfing Reserve. The surfboards were used to promote a new education program on surf etiquette.  
Noosa World Surfing Reserve is a not-for-profit association dedicated to the preservation of Noosa as one of the great surfing destinations of the world. Noosa Fes-tival of surfing is a surfing competition going back over 30 years. Pretty amazing!
We had four artists (Lila, Annie, Chinta and Rosita) from Cycle 4 who created amazing works of art on these surfboards. I was lucky enough to interview them about why they chose the designs they did and how they did it. 
I asked them what inspired you to do the art work that you did?
Lila: I was inspired by a painting I saw at the start of the year that showed the ocean at night and day and I really liked the colour pallet. I also got inspiration from a quote I saw that said "Surf from sunrise, till sunset".
Annie: I was inspired by dinosaurs, turtles and the ocean.
Chinta and Rosita: We like to go surfing together so that's where the wave came from, and the bush turkey represents popular Noosa culture and people snaking other people on the waves.
Thank you to Noosa Festival of Surfing and Noosa World Surfing Reserve for donating these surfboards to us, we were so lucky to have gotten to watch these artists create amazing pieces of art on them.