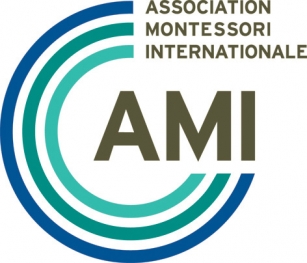 Association Montessori Internationale
The Association Montessori Internationale's (AMI) mission is to support the natural development of the human being from birth to maturity, enabling children to become the transforming elements of society, leading to a harmonious and peaceful world.
AMI is recognised internationally as an authoritative voice regarding the unique nature of childhood, natural human development and the rights of the child.
AMI is identified and sought after nationally and internationally as the custodian and cultivator of Montessori philosophy and pedagogy.
AMI is invited to assist international and national humanitarian and government authorities in addressing social and educational problem situations where positive change can be effected through the education of children.
AMI activities include coordinating a training of trainers programme, guiding approved manufacturers of Montessori Materials, overseeing the publication of Dr Montessori's books, organising congresses and study conferences, affiliating Montessori Societies and publishing the magazine Communication.
 The Objectives of the Association Montessori Internationale are:
To uphold, advance and protect the rights of the child within society. Making it known that the child plays an essential part in the progress of society. Civilisation depends on the development of the child and their natural growth;
To communicate and establish awareness and understanding of the natural laws of development. From the development of the child's mind, to their social skills, physical development and growth into a global citizen;
To arouse and invoke the public opinion on the responsibility that adults have towards the advancement of children's development and their duty to provide a dignified, nurturing environment;
To expand and sustain the pedagogical principles researched, developed and applied by Dr Montessori during her lifetime;
Providing opportunities for children all over the world to grow, learn and expand their minds naturally. To enter a life of harmony and co-operation with other children and society at large; 
To broaden the scope of the social movement driven to provide rights to children throughout the world regardless of their race, religion, ethnicity, political or social background or beliefs.
AMI Membership is open to everyone.  
Visit AMI's website: www.montessori-ami.org for further details.
Montessori Australia is authorised by AMI to offer AMI Membership with our Individual Subscriptions.  See here for details.