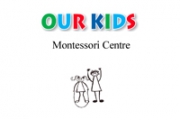 Our Kids Montessori Centre is located in the eastern suburb of Nunawading, in close proximity to train and bus transport.
We are a long day care centre that incorporates a Cycle 1 programme for children aged between 3yo and 6yo within our daily rate. The benefits of this programme includes a sense of continuity for children who have progressed through the centre from younger rooms, the ability to extend their skills by working with children both younger and older than themselves and the fact that your child is able to receive a Montessori education, all within the comfort and convenience of a long day care centre.
At Our Kids, children gain a strong sense of self creativity, self-motivation, integrity, perseverance, self-discipline and independence. Leadership, respect and responsibility are cultivated in a specially designed caring environment free of competition where the child will gain self-esteem, experience and practical responsibility and respect for themselves, each other and their environment. The children receive a strong foundation for later learning.
We are participating in the Montessori Quality Assurance Programme, have two Montessori trained teachers, and a qualified kindergarten teacher. Subjects covered at Our Kids include practical life, geography, sensorial (introduction to numeracy), mathematics', literacy, culture, language and art.
At Our Kids we also offer a toddler room for children aged between 1yo and 3yo, which offers an introduction to Montessori within its programme.
As an approved child care service eligible families have access to CCB and/or CCR. Our hours of operation are 7.00am to 6.00pm Monday to Friday.