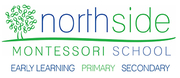 Northside Montessori School was established in 1978 and is set on a beautiful campus at Pymble, on Sydney's upper north shore. Since its establishment, Northside has developed to become one of the largest Montessori schools in Australia. Originally offering high quality Montessori education for children aged 0-12 yearsNorthside established a High School (Years 7-12 Adolescent Program) in 2022.
Northside is committed to providing a holistic, caring and nurturing educational environment that develops in each child the self-confidence and inner security to learn independently, to build a habit of concentration, initiative and perseverance and to foster curiosity and sense of wonder.
Our teachers are highly qualified and have completed extensive Montessori training in addition to the necessary qualifications required by the NSW Educational Standards Authority (NESA).
Northside also offers before and after-school care, Vacation Care, and operates a Montessori Early learning Centre at Turramurra for children from 6 months to 6 Years.
The Northside Montessori pre-primary and Early Learning programmes are accredited by the NSW Early Childhood Education and Care Directorate and its primary programme is registered by the NESA. Northside is also a member of the NSW Association of Independent Schools, a Montessori Australia member, Montessori Registered and is also a member of Montessori Schools and Centres Australia.
We welcome families to come and visit our school to see how Montessori education can transform the way your child learns.