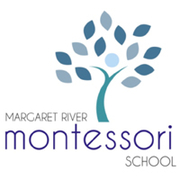 Margaret River Montessori School – Education in harmony with life.
Margaret River Montessori School is an Independent School located within the picturesque western side of Margaret River surrounded by natural bushland. The property also holds a natural wetland which is utilised by the students for environmental and sustainability studies on a regular basis. At MRMS we provide individualised learning for individual children; we follow the child and aim to develop the child's own desire to learn. The Montessori Method and the prepared classroom and outdoor environments help to develop within the child the qualities of self-esteem, independence, concentration and a love of life-long learning. We are committed to developing strong school and parent/carer partnerships and in promoting the involvement of our students in school and community projects.
All staff hold traditional and Montessori teaching qualifications and the school is registered by the Department of Education Services. We teach the Australian Montessori Curriculum which is officially recognised by ACARA (Australian Curriculum, Assessment and Reporting Authority) and is underpinned by and mapped to the Australian Curriculum. Our students consistently achieve well in NAPLAN tests and all testimonials evidence that our graduates transition smoothly (academically and socially) to mainstream secondary schooling.
Above all, we are committed to providing an education for life that combines and supports all intelligences and integrates academic learning with social/emotional learning as well as connecting with the environment and the wider world.
We offer the following programs:
· 0-3 Playgroup Programme – Facilitator run, parents attend with their children
· 3-6 Junior Primary
· 6-9 Middle Primary
· 9-12 Upper Primary
Opening a high school in 2023 beginning with Yr 7, 8 & 9 and growing from there.
For information on School Tours and Enrolments please contact our Office Administration on (08) 9757 2564 or [email protected] .