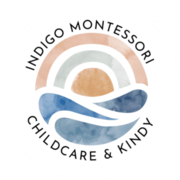 Our centres at Broome, Mt Hawthorn, North Perth, Mt Claremont and Padbury  believe in providing a safe, nurturing, learning environment for all children.
We are new Montessori Schools with the knowledge of 20 years behind us in the childcare sector. We bring together the values of being family owned and the forward thinking of the Montessori Method of Education, to provide a service that recognises each individual child and their journey towards Education and Life.
Our centres have been providing quality care for preschool aged children for many years; we have now identified a need in the Early Years sector and a shift towards preparing the child not only for school but also for being active and knowledgeable participants in their world.
At Indigo Montessori Child Care and Kindy (Mt Hawthorn) we like to think of ourselves as a boutique early learning programme for children up to five years old. Conveniently located just off the freeway near the Powis street exit, we are simply a 10 min walk from Glendalough train station. We offer educational programmmes which are designed and guided by qualified educators with a Montessori Teaching background.
We offer the following programmes:
Pre-Montessori Room: for 18mths-3 yr olds from 7.00am to 6.00pm
Children's House: for 3-5 yr olds from 7.00am to 6.00pm