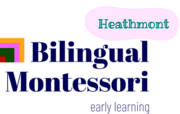 Heathmont Bilingual Montessori Early Learning is a long standing 65 place kindergarten providing excellent education to its community since 1952. Heathmont Bilingual Montessori Early Learning (HBMEL) is registered for Child Care subsidy and state Kindergarten funding. We offer an integrated kindergarten & prep program within a long day care model. 
We offer Chinese / Italian as a second language and incorporate a range of specialist programs in the afternoons so that our children are given ample opportunities to discover their passion and interests.
Our unique Bilingual Montessori program runs Mondays to Fridays 9.00am - 5.00 pm and consists of: 
Early Starters Program (2.5 years old)
3-Year-Old Kindergarten
4-Year-Old Kindergarten
Primary school Prep Program (conditions apply)
After completing our full Cycle 1 program (3yo, 4yo & prep program), children will be eligible for Cycle 2 at Mitcham Primary School https://www.mitcham.ps.vic.edu.au/montessori 
Enrolment Criteria
Pre kinder & 3-year-old Kinder: Minimum 2 days 
4-year-old Kinder: Minimum 3 days 
Prep Program (First year of Primary School): Compulsory 5 days 
Visit www.croydonbmel.com.au to learn more about our Croydon campus!