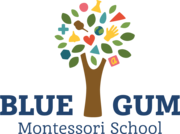 Blue Gum Montessori School in Perth, Western Australia is an independent Primary School for 3 to 12 year old children. At Blue Gum, we combine Montessori philosophy and principles with current best education practice. We are passionate about developing confident, independent, self-disciplined children who have a positive attitude to life and a love of learning.
We understand that selecting a School for your child/ren is an important decision for parents. We believe that Blue Gum delivers an outstanding Academic Education for 3 to 12 year olds within an environment of self-awareness, community life, care of the environment and cultural diversity.
Blue Gum Montessori School also provides three Playgroup sessions for one to three year old children on Fridays. We invite you to enrol your child by emailing the School Registrar at [email protected] or phoning 08 9417 4060.
We invite you to explore our school further by attending a classroom observation and an open morning/evening throughout our school terms; this will help you make the best decision in choosing our school for your child. Details of our open morning/evenings will be published on our website and classroom observations may be booked by contacting us.
We look forward to meeting you at Blue Gum Montessori School.

Address:
Hope Road (Corner Bibra Drive)
Australia