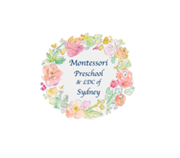 The Montessori Preschool of Sydney provides a happy and safe, stimulating environment in which our children can develop and grow to fulfil their individual potentials.
We pride ourselves on bringing an authentic Montessori learning approach to ensure your child meets their full potential in every aspect of their development – Social, Emotional, Physical, Cognitive and Communication.
Our school offers opportunities to develop and refine practical life skills which they can be encouraged to apply to their everyday life and in their homes. Watch as your little one flourishes into an independent, happy young child.
We offer the following classes:
Bambini's 0-2 year olds
Toddlers 2-3 year olds
Preschoolers 3-6 year olds
Mpos Fitness
Mpos Languages
Mpos Creative Arts
Mpos Yoga
Visit our website for further details and to book a tour.

Postal address:
Pedestrian Entrance: 136A O'Riordan Street
Australia