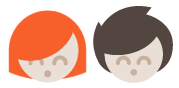 The Hornsby Ku-Ring-Gai Montessori Preschool journey has a deep respect for the Montessori Principles, Early Years Learning Framework and the National Quality Standards. Our centre philosophy is to maintain a high standard of personal care for each child whilst allowing your child to experience a Montessori education which will encourage the child's love of learning, support their natural potential and build a foundation for life-long learning.
Our aims & objectives:
To provide a loving, caring, safe, asthetically pleasing and stimulating "home from home" environment where children can experience a wide range of opportunities to develop learning and social skills within the framework of a Montessori curriculum;
To provide staff that are highly motivated, loving, patient, understanding & qualified to care for your children;
To ensure that children learn who they are and respect others and their environment.
Open Monday through Friday (8am to 6pm).