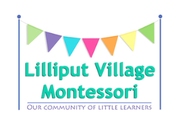 The Montessori philosophy offers a powerful understanding of how precious the early years of a child's life are. A parent is given only one opportunity to provide their child the best possible foundation for life. It is with this in mind that we can assure you that Lilliput Village Montessori is a very special place for young children. A deep sense of respect for the child is our inspiration in preparing nurturing educational programmes that will enhance each child's unfolding pattern of learning.
Lilliput Village Montessori is the beautiful outcome of a unique journey – the butterfly that emerged from a metamorphosis! The close-knit teaching team and high-quality Montessori program of Lilliput Village originated at Babthorpe Montessori Preschool. Babthorpe operated for many years on the grounds of a primary school but the time came for our community to grow. Taking a big step forward (and moving a little way down the road!) allowed us to embrace the autonomy of an independent setting, design our dream landscape for our stunning village garden, and facilitated the growth required to invite toddlers into our learning environment through our specialised 'Montessori From the Start' Bambini program for 2 year olds. 
Lilliput Village Montessori has a family friendly focus where parents feel valued and supported as they entrust their children into our care. We aim to always keep parents informed about our programmes and to offer ideas, encouragement, support and information to assist parents in their immeasurably important role of shaping the lives of their children.