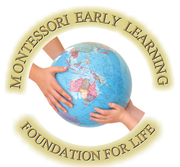 Montessori Early Learning - Tingalpa is a new family owned and operated long day care centre, operating Monday-Friday from 8am-5pm. A Montessori program for children 3-6 years has been introduced at the centre.
Our Montessori early learning environment incorporates specific Montessori materials. Through discovery each child is able to learn, with the freedom to follow their own interests and abilities.
In the multi-age group, older children role model and support the younger children who in turn observe more advanced work. The Montessori program caters for the differing learning styles and needs of children, promoting self-discipline and a love of learning.