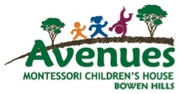 We provide supportive educational care, within long day care hours, for children aged 12 months to 6 years of age, 52 weeks of the year.
Avenues Montessori Management and staff are dedicated to providing exceptional early childhood programs, set in custom made facilities that draw upon the natural concepts of beauty, harmony, simplicity and order.
The Children's House has been designed to create stimulating environments that are geared towards the child, which enables them to proceed at their own pace in a non-competitive environment: to explore; experiment; and develop their love of learning.
We invite you to explore our website and to learn more about us, our Philosophy and Vision for providing and creating a child-centered learning environment. One that involves families, educators, and the community in nurturing the whole child on their extraordinary journey of life.