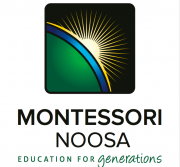 Established in 2017 Montessori Noosa has organically grown to serve the needs of up to 60 students aged Prep to Grade 6.
Montessori Noosa offers programs in Cycle 2, Cycle 3 and Cycle 4. Karinya Montessori Children's House in Cooroy (karinyamontessori.com) provides a nurturing setting and acts as a feeder school for early years students progressing into our Cycle 2 program.
Situated 8 minutes from Noosa National Park and Main Beach, the school is perfectly positioned: being walking distance from ovals, Noosa Aquatic Centre, Tennis Club and Gymnastics Centre all of which are used by the school. We are also surrounded by bushland which is the location of a great deal of outdoor learning and play.