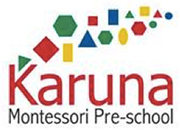 Welcome to Karuna Montessori Preschool.
For 25 years, Karuna Montessori Pre-school has been developing a solid foundation for our children's future education, encouraging independence, and nurturing our children's natural curiosity to learn.
Karuna means compassion and we value building our children's respect for all people and the environment.
We provide an authentic Montessori Education through two key programs; our Under 3's Playgroup caters for the 18 month - 3 year old child's urge towards independence and offers opportunities for parents to increase their awareness of their child's capabilities. Our 3-6 years Preschool draws on the Montessori principles and methodology to offer a rich learning environment where children absorb, explore and develop.
Read more about our classroom, curriculum and community events on our website, and contact us if you wish to learn more.