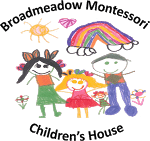 Broadmeadow Children's House has been providing high quality Montessori education in Newcastle since 1996. Our Preschool is privately owned and offers families a real community experience. We are committed to providing our families a partnership in your children's education. We are open for families with children aged from 2 years to 6 years. We have very dedicated, passionate and experienced Montessori and early education trained staff as a part of our Montessori family.
We are open 48 weeks a year closing on public holidays and for a break at Christmas time. Our preschool is open from 8am until 5:30pm Monday to Friday.
We have a large open plan learning area in a residential setting with a natural backyard with plenty of space to explore and run. We offer the full 3-hour Montessori work cycle as well as the Early Years Learning Framework (EYLF) curriculum.