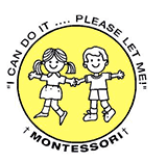 Combining the Montessori method with Christian values in child care.
Our image of the child is that they have a passion for relationships, activity, exploration, and discovery; and with an inborn expectation of how the world should be.
The Montessori classroom is a carefully prepared and ordered environment designed to meet the developmental needs of each individual child.
We offer programmes for children from 0-3 years of age, and 3-6 years.
Visit our website for details, to book a tour, and enrol.