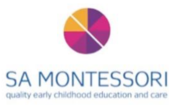 SA Montessori is incredibly proud to announce an innovative and inspiring new partnership with ECH, one of the largest integrated providers of retirement village accommodation and ageing care services in South Australia.
Together we are building a pioneering project that will place early learning and retirement residences side-by-side. The two services will not only be co-located on the same plot of land, but will be deeply integrated through a range of opportunities that will facilitate consistent, authentic and ongoing intergenerational interaction. Children and elders will not only share land, but will share their lives with one another as they connect, learn and grow.
This intergenerational village will be located at 85 Smart Road, Modbury. The main road provides convenient access for families from surrounding areas, but this street frontage will be the only manmade piece of the site's perimeter. The rest of the development is embedded into Linear Park, meaning that the children and elder residents will be embraced by nature. They will also be reciprocating that care through the thoughtful touches of the village design, such as the urban farm that will be tended by little hands and big ones alike.

Address:
Under Construction - Opening January 2022
85 Smart Road
Australia