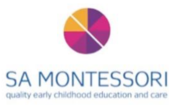 A child's first steps into the world set them upon a pathway that unfolds towards their future. We believe that there is nothing more important than giving each child the most solid and secure foundation for these early explorations. We have created a nurturing community where we can support your child's natural instincts to connect, explore and grow!
Yet Echoes Montessori is even more than an exceptional early learning environment; it is a home away from home in a unique intergenerational village. We share our land, and our lives, with the residents of the Encore apartments for independent retirement living. Intergenerational engagement is embedded into our program, allowing our children to develop meaningful connections with their elders. Our name and our logo represent our belief that the influence and inspiration of our elders 'echoes' through the generations and is carried forward into the future. We are connecting the children who have just entered this great world of human thought with those who have the most experience in it. We truly believe that we are 'better together'.
Echoes Montessori benefits from its position within the Encore apartments community. This vibrant village hosts a variety of facilities to support the holistic well-being of residents, children, families and staff members alike. Our children tend to the urban farm and learn about food preparation at Poetic Justice Cafe. They visit the gym for physical activities and pop into the library to read with their elders. We benefit from the presence of allied health partners providing wellness services such as physiotherapy. The Community Hall provides the perfect setting for parent-child groups and parent education events. To top it all off, Linear Park is just a few steps away!