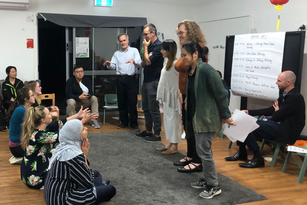 From participants at the most recent Positive Discipline Parenting course...
This is a must for all parents!
It should be mandatory for parents to learn and know the concepts taught in this course. 
It was engaging and applicable to parents with children of various ages.
My home is more disciplined. My child is more connected than ever before. 
Our approach to everyday challenges has changed, creating more engagement and connection in a really positive environment.
It has encouraged me to be more compassionate and to reflect on my own behaviours.
It has given me better, effective ways of communicating with and my understanding of my children.
It has made a huge difference in our respect for each other and the way in which we communicate.
It is the best way to get an insight into your own parenting skills and use some practical tools to improve them.
It has been so enlightening. The course provides lots of tools and provides a wonderful support base to discuss parenting challenges.
I love the change (at home) - love giving my son choices, love him problem-solving, and appreciate the hugs I'm getting.
Mark's facilitation and the activities were brillant and lots of fun.
I'm so grateful that I went to the introduction session. Now I see that this really is a key foundation of fostering healthy and positive relationship with kids and also between parents too. 
Thank you Mark for providing this great course to parents and teachers. The practical application of positive discipline tools through the activities in the course really help to break the bad habits; this experience help us to understand the way children think, feel and decide during those difficult pressure situations, enabling us to move into balanced interactions with better knowledge, empathy and connection that encourage healthy development, joy and less struggles where we all learn from each other and thrive as family. I really appreciate the effort you are giving on growing this community. I am sure we will meet you in another refresher sometime, therefore thank you for keeping that opportunity open for us.
Thank you for your wisdom and sharing your experience with us.  It was an eye opener in some extent and was certainly a great learning for us and I'm so glad we did take this PD course now rather than later. Now I see that this really is a key foundation of fostering healthy and positive relationship with kids and also between parents too. So huge thank you.
It was a great presentation Mark, and I thoroughly enjoyed it and found it informative and aligned to the Montessori principles. It gave me an opportunity to reflect on myself and my behaviour when dealing with difficult situations that arise from time to time, and how I could have handled situations differently. I am sure many parents will benefit from the sessions and learn skills and techniques to foster a positive, happy relationship with their children. 
My husband and I were discussing yesterday that how grateful we are we choose to attend this course. It's given us a lot to learn and totally new perspective to few things coming from our own biases. I am glad we decided to stick with it. One of the best thing we could have done as a parent for the long term benefit of our son.
IF YOU WANT THIS FOR YOUR FAMILY - BOOK HERE FOR THE NEXT ONLINE COURSE.