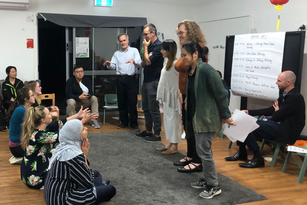 From participants at the most recent Positive Discipline Parenting course...
This is a must for all parents!
It should be mandatory for parents to learn and know the concepts taught in this course. 
It was engaging and applicable to parents with children of various ages.
My home is more disciplined. My child is more connected than ever before. 
Our approach to everyday challenges has changed, creating more engagement and connection in a really positive environment.
It has encouraged me to be more compassionate and to reflect on my own behaviours.
It has given me better, effective ways of communicating with and my understanding of my children.
It has made a huge difference in our respect for each other and the way in which we communicate.
It is the best way to get an insight into your own parenting skills and use some practical tools to improve them.
It has been so enlightening. The course provides lots of tools and provides a wonderful support base to discuss parenting challenges.
I love the change (at home) - love giving my son choices, love him problem-solving, and appreciate the hugs I'm getting.
Mark's facilitation and the activities were brillant and lots of fun.
IF YOU WANT THIS FOR YOUR FAMILY - BOOK HERE FOR THE NEXT ONLINE COURSE.