Montessori Innovation Summit
SPECIAL 2 DAY EVENT focusing on Innovations in Montessori.
DAY 1 – MONTESSORI FOR THE DIGITAL AGE SYMPOSIUM
DAY 2 – MARKETING & COMMUNICATIONS ACTIVE LEARNING FORUM
Engaging workshops and group discussions on current topics and issues for Montessori schools. 
PROGRAMME HIGHLIGHTS INCLUDE:
Plugged-in Childhoods: How Technology is Shaping Early Childhood – Dr Kristy Goodwin
Keeping the Faith in the Digital Age
Modernising Montessori - How to Use Digital Devices to Engage Learners in 21st Century Montessori Classrooms
Applying Montessori Theory to Computational Thinking Through Code
Digital Literacies and Digital Technologies in the Montessori Classroom
Full STEAM Ahead: Integrating a purposeful Digital and Design Technologies programme into an already full Montessori Curriculum
Why the Best Leaders Lead with the Brain in Mind
Signal vs Noise: How to Grow Your Montessori School with Digital Marketing
Getting the Messages Right in Communicating with your Whole School Community 
Rates:
2 day Innovation Summit $600 for subscribers, $800 for non-subscribers.
Single day registrations $300 per day for subscribers, $400 per day for non-subscribers.  
Subscriber discounts will apply at the checkout. 
To book, choose either the 2 day Innovation Summit option to attend both days, or a single day option.
Click the Venue link below for suggested accommodation options.
Dates:
Wednesday, 3 October 2018 -
Thursday, 4 October 2018 -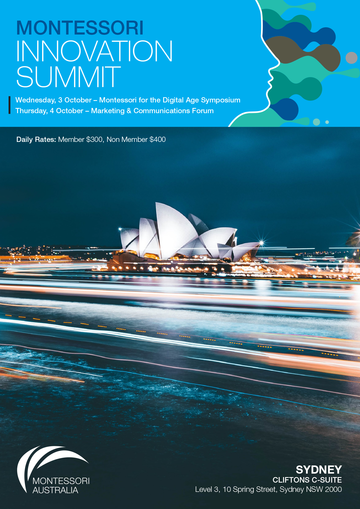 Montessori Innovation Summit