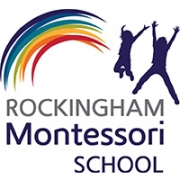 Rockingham Montessori School is dedicated to providing an environment in which the needs of the whole child are met in a nurturing, safe, caring school, by encouraging independence, mutual respect and self-discipline so that children are prepared to take their place in the global community.
Rockingham Montessori School caters for children aged between 3 and 18 years. Children under 3 may attend the off-site Montessori Infant Toddler Program / Playgroup.
It is considered most beneficial to start your child at 1 year of age in the Infant Toddler Program and then transition at 3 years of age into the Children's House located at the primary school. The Adolescent Program provides students the opportunity to achieve their Western Australian Certificate of Education (WACE) along with an Australian Tertiary Admissions Rank (ATAR) for direct university entrance and we also provide a range of options for alternative university entry. Reserve your child's place on our waiting list to avoid missing out.
We offer individual and group music classes in guitar, keyboard and concert band instruments and also run an accredited Out of School Hours program from 6.00am to 6.00pm five days per week during term and school holidays. A variety of clubs are available after school including Chess, basketball, soccer.
For more information visit our website or contact the school for an information pack.