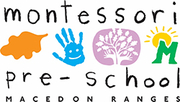 The Macedon Ranges Montessori Pre-School is situated in Riddells Creek, a charming country town located in the north western fringe of Melbourne, 55 kms from the city. The surroundings include a lake, creek, parks, art galleries, railway line and views of the beautiful Macedon Ranges.
Since establishment in 1985, the Macedon Ranges Montessori Preschool has provided parents with an alternative option of education in the Montessori method. We provide a holistic approach within a supportive environment that nurtures children's self-respect. Our program focuses on developing self-discipline, self-respect and consideration for others and the environment. Macedon Ranges Montessori provides education to children from the Macedon ranges district as well as many from Sunbury, Diggers Rest and Taylors Lakes.
We use specifically designed Montessori materials, which encourage children to be:
Responsible
Independent
Inquisitive
Self-Motivated
Well organised
Adaptable
We have spacious classrooms with plenty of natural light. The well established prepared environment is inviting and creates a warm atmosphere. Currently we offer an early learning program (ELG), half-day sessions and an extended day program.
The Macedon Ranges Montessori Pre-School has two full time staff members holding a Bachelor of Early Childhood or Teaching qualifications as well as a part time staff member holding a Certificate III -Children's Services. Groups are currently capped at 24 children per two staff being well below the current National Education and Care Regulatory requirement of 2:30.
This Montessori Centre at Riddells Creek is a unique place where friendships form and the children have many memorable experiences.
Visit us on FaceBook at https://www.facebook.com/MacedonRangesMontessori