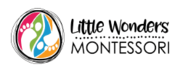 Little Wonders Montessori provides a nurturing, child-centred educational experience, for children between 12 months and 6 years of age. Our brand new, state of the art, purpose built facility is conveniently located close to Darra Railway station.
We cater for only forty-four children, giving us the ability to provide customised care, tailored to the individual needs and interests of our children. Equipped with high quality Montessori educational resources and engaging highly trained, dedicated educators enables us to provide meaningful educational experiences for our children, designed to inspire wonder, curiosity, resilience and confidence.
We are a community based educational service that actively seeks to strengthen our local community connections with families and schools and professional partnerships with local businesses and organisations. Through our strong sense of community, we take pride in forging supportive relationships that connect our children, creating a caring and safe environment of inclusion that develops their social and emotional competencies.
Our Montessori based education model integrated with the early years learning framework has been carefully crafted to ensure that each of our children experiences quality care that supports their growth and wellbeing, enabling them to reach their potential across all curricular and extra-curricular domains. As children become part of our Little Wonders family, we actively foster their love for learning, getting them school ready!