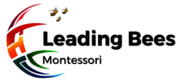 Montessori Education is not just for school but for life. Leading Bees Montessori deliver a Montessori Education Program that nurtures each child's full potential, so they become the confident, independent, and courageous learners they were born to be. We are providing families with a high-quality alternative to play-based childcare.
Leading Bees Montessori's Education Programs are child-centred, hands-on, and designed with multiple learning styles in mind. They focus on providing children with the optimal learning environment, materials, and guidance to discover their full potential. Programs are child-led and self-paced while guided and enriched by knowledgeable educators. In Montessori, the classroom, the students, and the educators come together to form a personalised approach to learning.
We offer an Infant Program for 0-2 year olds, a Toddler Program for 2-3 year olds and a Kindergarten Program for 3-6 year olds.
Visit our website for more details or to book a tour.