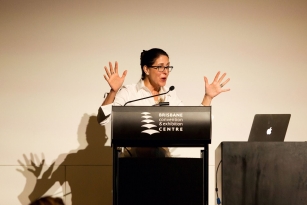 Ongoing Professional Learning
The Montessori Australia event programme is designed to meet the needs of all Montessorians, whether they are involved in supporting the development of the child and the care of our elders. We offer conferences, forums and workshops for Montessori educators, carers and parents, as well as Montessori school principals, business managers and administrators, and Montessori centre owners, managers and operators. Our events programme reflects the annual feedback and suggestions we receive from our community and incorporates an impressive range of topics and presenters.  
Click here to go to the Events booking section.
Conferences
Montessori Early Childhood Australia Conference
The Montessori Early Childhood Australia Conference is our premier event for the early childhood sector featuring a dynamic mix of Montessori, educational and innovative presenters, sponsors and exhibitors.  It attracts between 250-300 delegates to a weekend in mid-late March it comprises of a Saturday plenary, Saturday evening cocktail reception and Sunday morning workshops (for educators and parents).
Montessori Whole School Refresher
The Montessori Whole School Refresher provides Montessori educators and administrators, professional development and network opportunities over the Friday and Saturday of the Queens Birthday long weekend.  Held in Sydney and attended by around 150-200 delegates, the conference opens with a plenary session, which includes a brief update on recent milestones for the Montessori community in Australia and around the world. The rest of the conference has separate workshops for each educator level 0-3, 3-6, 6-12, Adolescent and Administrators.  In 2017, we will also include a 1 day Assistants Workshop on the Friday.  Join us for the special reception on Friday after the first day for a party to celebrate 10 years of the Montessori Australia Foundation.
Forums
Montessori Leadership Network Forums
The forums provide an opportunity to network with Montessori colleagues, receive an update from the national body, and discuss key issues for Montessori in Australia.  The afternoon meetings are hosted at Montessori schools/centres in Sydney, Melbourne, Adelaide, Brisbane and Perth in March.
Montessori in Public Schools Forum
The forum presents a unique opportunity for educators working in (or interested in developing) public Montessori programmes, to come together to share insights and experiences.  The Friday and Saturday forum is hosted at a Montessori public school setting in April/May.
Montessori Business Managers Forum & Heads of Schools Forum
Held in September or October, the 3-day forums cover a range of topics relevant to financial management, leadership and emerging issues for Montessori Independent Schools Australia (MISA). The forums are suited to principals, business managers, administrative staff and board members.  Due to the International Montessori Congress, we will not be holding the Heads of Schools Forum in 2017.
Montessori Adolescent Programme Forum
The Montessori Adolescent Programme Forum provides educators working in (or seriously working towards) Montessori Adolescent Programmes in Australia and the wider region, with a valued opportunity to come together. The forum provides a space to share and examine practice and reflects upon the underlying structures and working processes that support the work with young adolescents in Montessori middle years programmes.  Held in September, the forum runs over 3 days.
Montessori Early Childhood Centre Directors Forum
Held in October, the one-day forum presents a unique opportunity for Centre Directors to come together to share insights and experiences about common issues such as training, professional learning, meeting regulatory requirements, staffing, assessment and ratings procedures, Montessori quality assurance, marketing, record keeping and much more.
Workshops
Pedagogical Professional Development Workshops for Educators
Montessori Australia provides educators at 0-3, 3-6 and 6-12 levels, professional development workshops on specific pedagogical topics throughout the year, across multiple states.  These may include mathematics, language, music, practical life, etc. and are often presented by both national and international Montessori trainers.
Specialist Professional Development Workshops
Additional workshops may be offered for other audiences including ECEC, mentoring, governance, leadership, special needs, etc.
Parent Talks
Montessori Australia facilitates parent talks hosted either in conjunction with a conference or at a host school/centre venue with national or international Montessori speakers.  Past presenters include Dr Steven Hughes and Laura Flores Shaw.
For further event details and bookings, click here.
Montessori Ageing Support Services
Montessori Ageing Support Services (MASS) is a division of Montessori Australia. MASS offers a range of conferences, workshops and training courses throughout the year and around Australia.